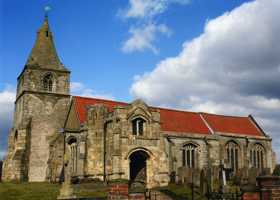 Holme
St Giles
Newark Archdeaconry
Newark and Southwell Deanery
Introduction
The church, with its low broach spire, stands on a sandy knoll overlooking the small village of Holme on a peaceful cul-de-sac close to the river Trent. St Giles as we see it today was mainly built in about 1485 by a wool merchant, John Barton, whose rebus, a bar and a tun (barrel) can be seen time and again both inside and outside the church.
From the churchyard the tower of North Muskham church on the opposite side of the river is visible and it was to this church that St Giles was attached until the mid-19th century. Up until the late 16th century, when the Trent changed its course, both settlements would have been on the same (western) side of the river. For centuries after, the connection continued with the use of a ferry.
St Giles' major claim to fame is its exceptional collection of early Tudor carved poppy heads of birds, animals and angels and the tomb that John Barton commissioned for himself and his wife during their lifetime.
The room over the porch is at the centre of the local legend of 'Nan Scott's Chamber'. It is said that Nan Scott left her house in Holme during the great plague of 1666 to live in this room away from infection for several weeks. When forced to visit her house for supplies she found the parish deserted except for herself and one other, and was so horrified she returned to the chamber and ended her days there.
In 1932, after centuries of neglect, Nevile Truman, a local historian and member of the British Association of Master Glass Painters, undertook the restoration of this unique building.
Particular thanks to Anita Maunsell, Dee Ashton, Margaret Bruce and Dick Makin for research on this entry