Holme St Giles
Churchyard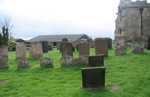 Gravestones to the
south of the church

Vaulted tomb of the
Revell and Bullen
families
The churchyard is large and has a considerable amount of land on each side with graves in all areas. It stands approximately one metre above the path. The land not covered by graves is grassland kept in good order.
Grave markers
That to Arthur Deane is not an official war grave marker. The inscription also includes his father. It is very possible that Arthur Deane is not buried in the grave but rather that his name is placed on the marker to commemorate him. Had his body been returned he would have been given an official marker.
The oldest decipherable grave marker to be found in the churchyard is from 1752. It is on granite unlike most of the markers which are of a soft local stone where the inscriptions have been eroded. Many of the markers lean rather precariously demonstrating the subsidence on the site. (The north wall of the church, firmly butressed in the eighteenth century is, presumably, further evidence of this.)
One interesting marker reads:
John Thomas Taylor
Servant to John Chaworth-Musters of
Annesley Park & Wiverton Hall, d 1898
The east window of St Giles bears two lights of stained glass removed from Annesley Old Church presented by a member of the Chaworth-Musters family during the 1930s restoration.
Large family plots include the local families of Miles, Blundy and Dickenson
There are burials as recent as 2007.
In 2001 a cremation remains area was opened at the western end of the churchyard.