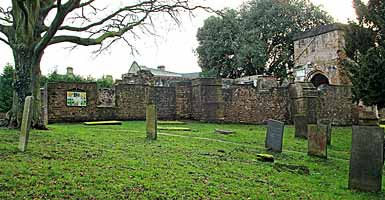 Annesley
Old Church (All Saints)
Newark Archdeaconry
Newstead Deanery
Introduction
Annesley Old Church stands on a mound within the grounds of Annesley Hall, close to the estate wall. Pevsner (1951) said the Old Church was "not a picturesque ruin, just an utterly rejected building". Half a century later, it is in a sad and ruinous state.
It was the third church to be built in a parish with a long, varied and rich history. The first building was erected in Saxon times, but nothing is known about when it was founded or precisely where it was located. It was replaced by a Norman Church built on the mound in about 1150, then that in turn was superceded by what is now known as Annesley Old Church, completed in 1356.
Following the sinking and development of Annesley Colliery, which began in 1865, an expanding community (New Annesley) became established more than a mile to the east of the Church. Records show the Parish population as 288 in 1861, but by 1871 this had increased to 1202. In response to this, a new church - the present Annesley All Saints - was built at New Annesley and consecrated in 1874.
Annesley Old Church continued to be used on occasion, reportedly until 1942. After that it was not conserved well, and the building deteriorated. Its state is now monitored by the Kirkby and District Conservation Society, which seeks to ensure that the importance of the site continues to be recognised.
In 2012 Ashfield District Council completed a programme of preservation and restoration for what remains of Annesley Old Church. It was made safe, and accessible to visitors.
Particular thanks to David Turner for research on this entry
and to Geoff Buxton for the photographs