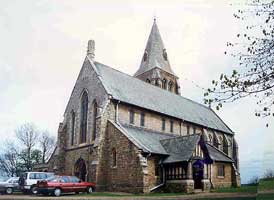 Annesley
All Saints
Nottingham Archdeaconry
Newstead Deanery
Introduction
The present building is the fourth church to be built in a parish with a varied history.
The first church was built in Saxon times, but nothing is known about when it was founded or precisely where it was located. It was replaced by a Norman Church in about 1150, which lasted until 1356, when the third church, the Old Annesley Church, was completed.
The current Victorian Gothic church was built following the sinking and development of Annesley Colliery in the 1860s. The church was consecrated in 1874, but had to be substantially rebuilt following a fire in 1907.
Particular thanks to David Turner for research on this entry
and to Howard Fisher and Geoff Buxton for photographs