Annesley
All Saints
War Memorial
There is a simple war memorial tablet in alabaster, measuring 24" x 36", sited on the east wall of the Lady Chapel. A Faculty for this was granted on January 14 1928.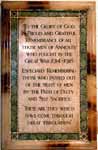 TO THE GLORY OF GOD
IN PROUD AND GRATEFUL
REMEMBRANCE OF ALL
THOSE MEN OF ANNESLEY
WHO FOUGHT IN THE
GREAT WAR 1914 - 1918

ESPECIALLY REMEMBERING
THOSE WHO PASSED OUT
OF THE SIGHT OF MEN
BY THE PATH OF DUTY
AND SELF SACRIFICE


"THESE ARE THEY WHICH
HAVE COME THROUGH
GREAT TRIBULATION"
In the south-west corner of the nave is a brass plaque commemorating members of the Chaworth-Musters family who lost their lives in the First World War:

Part of the
Chaworth-
Musters plaque
FOR GOD FOR KING FOR COUNTRY

TO THE GLORIOUS MEMORY OF

PATRICIUS GEORGE CHAWORTH-MUSTERS,
LIEUT. 1ST BATTN. KINGS ROYAL RIFLES.
WOUNDED IN THE RETREAT FROM MONS.
MORTALLY WOUNDED JAN. 8TH DIED JAN. 11TH 1915
AT BETHUNE IN FRANCE, AGED 26.

PHILIP MUNDY CHAWORTH-MUSTERS, M.C.
CAPTAIN ROYAL FIELD ARTILLERY.
FELL NEAR HOOGE JULY 17TH 1917
AFTER 33 MONTHS CONTINUOUS SERVICE
IN FRANCE AND BELGIUM, AGED 22.
BURIED AT POPERINGHE.

ROBERT CHAWORTH-MUSTERS, M.C.
CAPT. 12TH BATTN. KINGS ROYAL RIFLES.
DIED IN COSHAM MILITARY HOSPITAL
AFTER 4 YEARS AND 2 MONTHS SERVICE.
OCT. 10TH 1918 AGED 22.

ELDEST, FOURTH AND FIFTH SONS OF
JOHN PATRICIUS CHAWORTH-MUSTERS ESQ.
OF ANNESLEY PARK, NOTTS.
AND THEIR COUSIN.

ROGER MICHAEL CHAWORTH-MUSTERS.
LIEUT. 50TH SQUADRON ROYAL FLYING CORPS.
SECOND SON OF LANCELOT GEORGE E.M. CHAWORTH-MUSTERS ESQ.
OF FIELD DALLING, NORFOLK.
HE FELL IN AERIAL COMBAT IN FRANCE
MAY 7TH 1917 AGED 19.

IN THE MORNING OF THEIR LIVES.'
Roll of Honour
At the South end of the Lady Chapel, on the opposite side of the altar from the war memorial tablet, a framed board carries a list of names of those who served and those who fell in the First World War: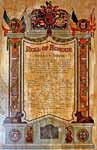 ANNESLEY PARISH


*Lancelot Allcock *Arthur Adlard Albert Allen
James Bentley George Bull Arthur Brown
William Bond Harry Barrett Charles Bollans
Joseph Charles James Channer Harry Carter
F. Chapman Douglas Chaworth-Musters Anthony Chaworth-Musters
J. N. Chaworth-Musters *P. G. Chaworth-Musters
* Philip M. Chaworth-Musters * Robert Chaworth-Musters
* John Davis
Arthur Fox William Faith
* John W. Gotliffe Wm Greenhalgh
* W. L. Hutchinson Percy Herbert John Hinchliffe
* Wallace Hewison Ernest Houseley Edward Hardstaff
James Hardstaff * Henry Halford Donald Hewison
* S. Lines * Geo Edw Lee Harold Lester
John Mellors William Mellors
John Nutbrown (VICAR)
Herbert Pilch Laurence Thos Parker Roland Parker
Frank Raven T. Raven Harry Raven Sam Robinson Clarence Renshaw
* Sidney Stirland John Scothorne Percy Shipman
John Chas Shaw Francis G Sturman * Absolom Stirland Wm Stretton
* Frank Turner James Tooke
* H. Widdowson George Whyler Robert Waplington
* H Widdowson George Whyler Robert Waplington
* Geo Walker Archie Wardle Fred Wilson
Harry Wiggett * Lewis Whitehead

* These Men laid down their Lives.