Holme
St Giles
Archaeology
The building today comprises a chancel with south chapel, nave with south aisle, a two-storied south porch, and a low west tower with short spire.
The tower and north wall of the nave represent the earliest visible phase of this church, and date from the 13th Century, although some of the chancel wall fabric may also date from this period. The broach spire appears to be of 14th Century form.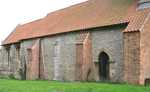 The north wall

North door
The north wall of the nave, probably dates from the 13th Century, and does not appear to have ever had windows. This wall leans greatly outwards and is supported by large brick buttresses of the 18th Century. The north door with its nail-head enrichment of the capitals outside and its chamfered arch suggest that this wall is of the Early English period, dating from around 1200-1225. Only the top half of the door remains, the lower half being blocked.
The tower was built, between 1250 and 1350. When John Barton decided to enlarge the church he would have found an aisleless building and tower. He inserted windows in the choir and a west window and buttresses to the tower with a new tower arch. He pulled down all the south side and added the Lady Chapel and south aisle in the Perpendicular style, about 1485.
On the south side arcade, comprising two unequal sized bays separating the chancel from the south chapel, are capitals which have Tudor roses carved on the north side face.
On the interior east wall a stringcourse of chevron design denotes the original east wall of the church which is still intact up to the south chapel.

Porch and south aisle
seen from the west
It is possible that the porch, which is not bonded into the wall, may have been built as an afterthought by Ralph Barton, son of the founder. However, Truman suggests that judging by the heraldry over the door, it may have been built by Robert, of the fifth generation of Bartons.
The Tudor roofs were lost in the 18th century and were replaced with the present brick, plaster and red pantiled roof, although some timberwork evidently survives from earlier periods.