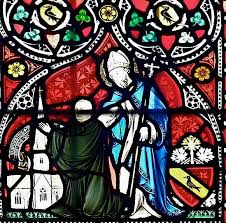 Nottingham
St Aidan's Mission Church
Nottingham Archdeaconry
South Nottingham Deanery
Introduction
St Aidan's Mission Church was a short-lived 'tin tabanacle' built c.1900 by St George's church in The Meadows to serve the western part of the parish.
The building was advertised for sale in 1914.
No picture of this church is known. The image on this page is a section of a stained-glass window (actually in Ramsgate Church) depicting the Victorian architect Augustus Pugin.
Particular thanks to Doug Fletcher for research on this entry