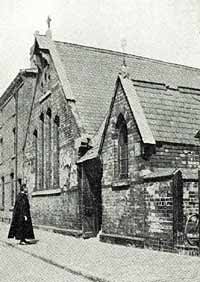 Nottingham
St Augustine's Mission Church
Nottingham Archdeaconry
Nottingham South Deanery
Introduction
St Augustine's mission church was erected in 1870 on Launder street, The Meadows, as a mission by St Saviour's Church intended to serve the western part of the parish which was being developed for housing and industry.
The brick building was the work of the Nottingham architect Robert Evans of Evans & Jolley, and opened on 30 November 1870. It consisted of an entrance porch, a large room for church services on Sundays and a classroom for an elementary school.
Until 1882 the clergy of St Saviour's had charge of the mission but a grant of £200 from the Nottingham Spiritual Aid and Church Extension Society provided a stipend for a curate and the ecclesiastical district of St Augustine was created with a population of 9,000.
Within a few years the size of the mission church was no longer large enough to accommodate the congregation, and building a more permanent church was planned. This new stone church was St George's on the corner of St Augustine's Street and Kirk White Street, a short distance from the mission building.
St Augustine's mission continued to operate after St George's church opened. It is not known exactly when the mission was closed, but the building is described as being an infant school by the late 1890s.
Particular thanks to Doug Fletcher for research on this entry