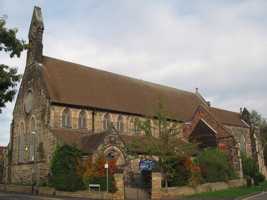 Nottingham
St George in the Meadows
Nottingham Archdeaconry
Nottingham South Deanery
Introduction
St. George's Church in the Meadows, Nottingham, was opened in 1888. A daughter church of St. Saviour's, it was erected to meet the needs of an expanding city population. St. George's soon became insufficient to meet continued demand, and with a few years three mission buildings were opened: St. Wilfred's, Meadows Hall and St. Aidan's, all less than a mile from St. George's.
During the first seventy years of its establishment turbulent events across the country and beyond tested the church's response to its being, with World War I taking the lives of many parishioners and leaving families in need. In 1920 local miners and their families were fed in the Meadows Hall, and in 1929 TUC marchers were provided with food and beds there. In the 1930s, with high unemployment, rooms and clubs were provided without charge to parishioners.
In 1911 the Bishop of Southwell invited the Kelham Fathers of the Society of the Sacred Mission to provide the clergy for St. George's, a role they undertook until 1982. Since 1911 the church has used the Anglo-Catholic style of worship.
The 1960s and 1970s saw the Nottingham City Council implement a major housing and property clearance and rebuilding programme, which at one time left St. George's almost isolated within an area of demolition and rebuilding. All the mission buildings have long since gone, many new residents from different communities have moved into the area and St. George's subsequently had a church hall attached to the church. The high west gable with its tall bell-cote remains a beacon of continuity to passers-by.
Particular thanks to Doug Fletcher for research on this entry
and to Dr Chris Brooke and Doug Fletcher for the photographs.