Nottingham
St George
Glass
Click the numbers in the key plan for details of the items.
West Gable
North Aisle
A group of five single pointed lights depicting saints, attributed to H.T. Hinks of Hinchcliffe, Hinks and Burnell dating from 1924-34. This company was a locally based manufacturer which in 1934 worked in Hermit Street, Sneinton.
Windows 8-12 share the same framing and dimensions as windows 6 and 7 but have different colour schemes and glazing bars.
Chancel
Set within a high arch housing the east window are two smaller lights, one on the north and one on the south wall.
Blessed Sacrament Chapel
Lady Chapel
South Aisle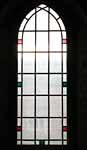 South aisle windows 21-26. The same design as windows 1 and 2 in the west gable.
Nave
Clerestory
The nave is well lit by the eight broad windows that line each side of the clerestory. Each window has two lights, surmounted by a six petal roundel. All are glazed in a larger than usual rectangular pattern with clear glass.