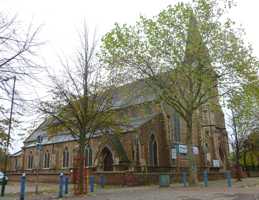 Nottingham
St Saviour
Nottingham Archdeaconry
Nottingham South Deanery
Introduction
Built in 1863-65 by R C Sutton, on Arkwright Street, the parish was formed out of St Mary's. Of Bulwell stone with dressings of Ancaster stone, in the Decorated style. It consists of chancel, nave, south porch and 3-stage tower at south east angle with low broach spire and one bell by Naylor Vickers. The spire was re-built in 1955.
At the east end of the chancel is a five-light window, at the west end two lights with a wheel window. There is a star-traceried clerestory. There are arcades with life-like heads and a hammerbeam roof. The nave has plain benches. There is a circular stone pulpit.
The east end was remodelled in 1913 by Thomas Wright when a new reredos in carved oak was presented. Also installed were two rows of carved choir stalls, new clergy stalls, Holy Table and oak prayer desk.
The 2-manual organ by Foster & Andrews of Hull was renovated in 1959.
The schools behind the church were also by R C Sutton, in 1965-6, and the sombre vicarage was added by Frederick Bakewell in 1867.
Three mission churches were built in the parish - St Augustine, St Margaret and St Gabriel.
A project began in 1999 to remove a third of the pews to make space for community rooms, a lounge, tea bar and toilets.