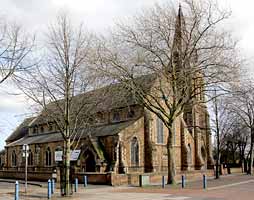 Nottingham
St Saviour
Nottingham Archdeaconry
Nottingham South Deanery
Introduction
St. Saviour's Church is an active monument to the development and change of a church built to serve the spiritual needs of an expanding town population in mid-Victorian Britain, its survival through the mass slum clearance of the 1960s and 1970s and its re-emergence as a community facility incorporating use not only by the Anglican church, its founders, but by other religious denominations.
The church, built in the Decorated Gothic style with a stone spire over 100 ft. high, was opened in 1864. The following year a school for parishioners was erected on the site, the first such building in the area. St. Saviour's appears to have thrived on continuous development, quickly founding three mission chapels (St Margaret's, St. Gabriel's and St. Augustine's) in a parish which soon boasted a population of over 16,000 people. The Sunday school at the main site catered for over 500 scholars supported by 50 teachers each week.
The building was designed by Nottingham architect R.C. Sutton. It cost a little over £3,000, with local stone from Bulwell being used for the main structure.
Like many places of worship, the congregation slowly diminished during the 20th century, until in 1999 a proposal was made to re-order the church, with the nave pews being removed and replaced with children's play equipment, catering facilities and casual seating. This attracted a new cohort of users, parents and children who found an additional use for the building whilst still maintaining its original purpose.
Particular thanks to Doug Fletcher for research on this entry
and to Geoff Buxton and Dr Chris Brooke for the photographs.