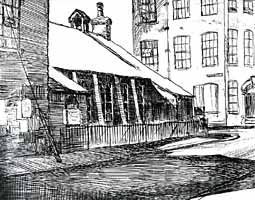 Nottingham
St Margaret's Mission Church
Nottingham Archdeaconry
South Nottingham Deanery
Introduction
St Margaret's Mission was established by St Saviour's church in The Meadows to serve the north-eastern part of the parish. The mission started in 1884 a small rented room but this soon proved inadequate and before long it moved to above Walter Danks' ironmongery shop on London Road. However, by 1891 the shop needed the space for expansion and the mission was forced to look elsewhere for accommodation. The mission was unsuccessful in finding alternative room and was faced with closure until the Bishop of Southwell intervened and purchased a plot of land on the corner of Crocus Street and Wallett Street, only a few yards from the London Road premises.
A brick mission church and corrugated iron parish room were erected on the plot and opened on 13 February 1892, the cost being met by Archbishop Ridding.
In 1940 the church was closed, and soon afterwards requisitioned by the Army for the duration of World War II. It was never reopened. In 1954 it was offered for sale and was later demolished.
Particular thanks to Doug Fletcher for research on this entry
and to Picture the Past for the photograph