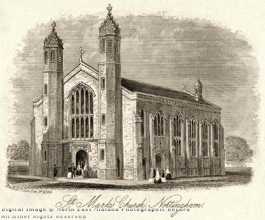 Nottingham
St Mark
Nottingham Archdeaconry
Nottingham South Deanery
Introduction
St Mark's on Windsor Street (now Huntingdon Street) was built on a green field site on the then north-eastern edge of Nottingham. Previously the new church district was part of the very extensive parish of St Mary's in the Nottingham Lace Market. In 1855 when the site was purchased and donated to the church the land on the opposite side of Windsor Street was already developed with crowded houses and commercial buildings. The church was consecrated in 1856 and the open land surrounding it was quickly filled with similar developments.
By 1881 the parish population reached 12,000, but within a few years it was reduced by the large scale demolition of properties with enforced population movement to clear the land for the building of the new Victoria Railway Station to the west of the parish and the opening of another Anglican church, St Catharine's, which was allocated a large part eastern side of St Mark's parish.
By 1921, the urban drift of the population of Nottingham was such that it was announced that four of the churches in the central area might have to close. Three were closed within a few years, but St Mark's survived until 1939, when without ceremony and attended by only a handful of parishioners, it was closed on 2nd September.
The building was demolished in 1956/7
In its later years the congregation was very small with a correspondingly minimal income. The final collection yielded only £1 10s 10d.
Particular thanks to Doug Fletcher for research on this entry