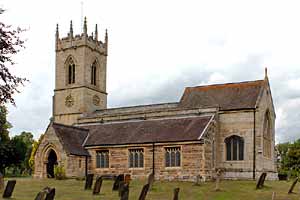 Ordsall
All Hallows
Newark Archdeaconry
Bassetlaw and Bawtry Deanery
Introduction
The church is built of stone, and consists of a chancel, nave, aisles, south porch and a west tower. The tower is in Perpendicular style with eight pinnacles, battlements, diagonal buttresses and six bells.
Inside there is some 13th century work, in particular the north arcade and, dating from a little later, the south arcade, both with octagonal piers.
An alabaster monument depicts a kneeling gentleman, probably Samuel Bevercotes (d1603).
The church was thoroughly restored in 1877 by T C Hine, who had sections of the north and south aisle walls (including the south porch) demolished and re-built to widen the church by 12ft, partially rebuilt the tower and replaced the east window which involved raising the height of the chancel roof.
There are Victorian stained glass windows by Kempe, the Camm Brothers and Powell & Sons.
The Rev Marmaduke Moore, incumbent during the Protectorate, was deprived by the Rump Parliament in 1652 for 'the damnable sin of playing cards with his wife'.
Particular thanks to Judith Goodall and Dr Chris Brooke for research on this entry
and to Geoff Buxton, Judith Goodall and Dr Chris Brooke for the photographs.