Papplewick St James
Bells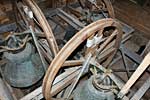 Three bells were partially tuned and rehung with new fittings by Taylors of Loughborough in 1898 in a low-sided wooden frame of 1794.
In 1996 Eayre and Smith of Melbourne Derbyshire rehung the bells in a new two tier metal frame, when two more bells were added.
Inscription
Date cast
Size
Weight
1

Thomas II Mears & Son of London 1810
Donated by Mr George Dawson and was formerly the treble of three bells at Holy Rood Church, Bagworth, Leicestershire.

1810
25.75"
3-1-0
2

Edward Arnold Leicester 1794 William Tagg Churchwarden
Edward Arnold Foundry

1794
28.75"
4-0-25
3

15th Century. Marked with a cross and inscribed with the name ELENA.
It could indicate that the church was once dedicated to St Helen. John Seliok

c1500
28.88"
4-2-6
4

1620 inscribed "I sweetly tolling men do call to feaste on meats that feed the soule."
Henry II Oldfield Foundry

1620
31.13"
5-1-1
5

Jesus be over speed 1609 Henry II Oldfield Foundry.
Donated by the Southwell Guild of Church Bellringers. Formerly treble of three bells at St Mary the Virgin, Plumtree, Nottinghamshire, 1997.

1609
33.50"
6-1-12
Bells 2, 3 and 4 were the original bells.
A plaque in the vestry reads:
St James Church Papplewick
The restored augmented bells
were dedicated by the
Archdeacon of Newark
the Venerable David Hawtin
on Sunday the eleventh day of May
nineteen hundred and ninety seven
To God be the Glory.
The churchwardens' accounts from the 1794 restoration of the bells survive and give the following details with costs in pounds, shillings, and pence:
| | | | |
| --- | --- | --- | --- |
| 'bell carridg to Nottm | 0 | 3 | 6 |
| a letter from Bellfounder | 0 | 0 | 4 |
| Blacksmith's bill | 3 | 14 | 10 |
| Belfounder's bill | 12 | 5 | 0 |
| Woodman's bill | 21 | 16 | 2 |
| Bell carridg | | 9 | 8 |
In 1552 there were 'three small belles hangyne in the steple.'