Papplewick St James
Monuments and Memorials
South Wall
Montagu Family Monuments

This tablet is Sacred
To the Memory of
Charles Montagu Esq
Of this Parish
only son of Sir James Montagu
Lord Chief Baron of the Exchequer
and of Tuston Wray Lady Montagu.
Sacred also to the memory of
Anne Colladon Mrs Montagu,
only daughter of Sir Theodore Colladon
and Susan Mary Amyot Lady Colladon.
They had three Children;
Charles who died Young,
Anne Montagu,
married to John Fountayne of Melton
In the County of York. DD
And Dean of York;
And Frederick Montagu
who had the misfortune to survive
his Excellent Sister

This tablet is Sacred
to the Memory of
Elizabeth Lady Wearg.
She was only Daughter of
Sir James Montagu
Lord Chief Baron of the Exchequer
Son of George Montagu
of Horton in Northamptonshire
and Grandson of
Henry Montagu
first Earl of Manchester
and Widow of
Sir Clement Wearg. Solicitor General
To George the first.
Chadburn Memorials
There are two memorials to members of the Chadburn family in an alcove behind the Rector's stall.

TO THE GLORY OF GOD
AND IN LOVING MEMORY OF
JOHN
(JOHN LUDLOW CHADBURN)
THIS CHURCH
WAS RESTORED BY HIS PARENTS
CLAUDE WILLIAM
AND ETHEL CHADBURN
IN THE YEAR OF OUR LORD
1940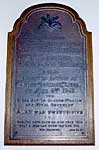 IN GRATEFUL
AND LOVING MEMORY OF
CAP

T

ALAN WILLIAM
CHADBURN
SOUTH NOTTS HUSSARS
RHA
KILLED IN ACTION AT
KNIGHTSBRIDGE LIBYA
ON JUNE 6

TH

1942
THE
ELDER SON OF CLAUDE WILLIAM
AND ETHEL CHADBURN
ALAN WAS 25
GREATER LOVE HATH NO MAN THAN THIS
THAT A MAN LAY DOWN HIS LIFE FOR HIS FRIENDS
JOHN XV:13
There are several memorial plaques at pew level on the south wall:
IN MEMORIUM
BETTY OWENS BRITTON
MBE
1912 - 1985
IN MEMORY
OF
MARION WOLLATT
1902 – 1973
IN MEMORIUM
GEORGE THORNTON SIMPSON
1926-1958
OF PAPPLEWICK LODGE
CHURCHWARDEN
1938 – 1953
IN MEMORIUM
MAUD SIMPSON
1885 – 1975
WIFE OF GEORGE THORNTON SIMPSON
IN MEMORIUM
CLAUDE AND ETHEL
CHADBURN
1888 – 1977 1888 – 1982
There is another on the table near the door:
IN REMEMBRANCE OF
JOSEPH AND PATIENCE
PERKINS
1913 – 1968
North Wall
There are two monuments on the north wall, between the war memorials and the organ.

SACRED TO THE MEMORY OF
WILLIAM HOWETT
FARMER OF THIS PARISH
WHO DIED FEBRUARY 12

TH

1843
AGED 65 YEARS