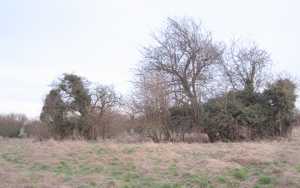 Rempstone
St Peter in the Rushes
Nottingham Archdeaconry
West Bingham Deanery
Introduction
St Peter in the Rushes was almost at the junction of Rempstone, Costock and East Leake parishes. It is an early foundation, but there is no record of a church here in Domesday.
Evidence points to the De Cortingstok family of Costock as founders of the Norman church. The churches at Rempstone and Costock were given to Lenton Priory by Robert de Cortingstok, with a great curse if his gift was annulled. The advowson also passed to Lenton. These churches were held by the Priory until shortly after the death of the prior, Nicholas Heath convicted of treason, at the time of the Dissolution.
Edward VI granted the church to Sir Thomas Darcy. It was possessed next by the Stapleton family, who were lords of the manor. In Elizabeth's time the manor was obtained by Field who shortly after sold it to the Armstrongs. In 1777 the advowson was sold to Sydney Sussex College, Cambridge who presented the last rector, Edward Bell, in 1748. Because the church was decaying and the village had moved away to the inconvenience of the parishioners, the advent of the village enclosure enabled a more central site for a new church to be allocated. The church was demolished in 1770.
Particular thanks to Barry Alexander for research on this entry