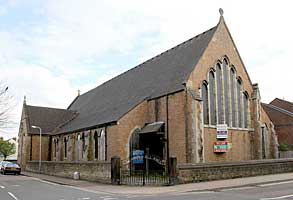 Sutton-in-Ashfield
St Michael and All Angels
Newark Archdeaconry
Newstead Deanery
Introduction
The church was built to serve the fast-growing Forest Side district of Sutton-in-Ashfield. Initially only part of the church was constructed: a three-bay chancel in Early English style, a vestry, and an organ chamber designed by the architect John Fowler of Louth. The foundation stone was laid in October 1886 and the chancel was opened on 28 September 1887.
An iron nave was added in 1892 but by 1908 it was becoming an eyesore and needed replacing. The foundation stone of a new stone nave was laid on 26 July 1909 and the completed church (including north and south aisles) was consecrated by the Bishop of Southwell on 22 January 1910. The architect was Louis Ambler.
The parish became part of the New Cross Community Church Anglican/Methodist Local Ecumenical Partnership.
The church was closed in 2003 and subsequently sold.
Particular thanks to Jessica Key and Andy Nicholson for research on this entry
and to Geoff Buxton for the photographs .