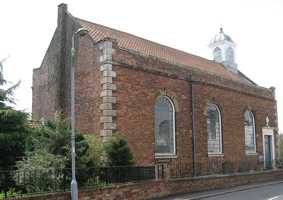 West Stockwith
St Mary the Blessed Virgin
Newark Archdeaconry
Bassetlaw and Bawtry Deanery
Introduction
St Mary's Church in West Stockwith was built on the west bank of the River Trent in 1722 by the trustees of William Huntington on the site of his shipyard. Built of brick, it fits perfectly into this brick village, according to Pevsner.
It is a plain rectangular building in the Classical style, a single chamber forming both chancel and nave, with a bell turret on the west gable. There are three round-headed windows on each side, all of plain glass except for an inset panel of stained glass in the middle north window.
The main feature inside is a life-size marble monument of William Huntington, reclining on one elbow holding a drawing of a ship. The artist was E Poynton.
The communion table is of richly-carved oak. The altar place is emphasized by two Ionic pilasters.
The church was restored and re-seated in 1887 for £300.
Particular thanks to Emma Kilkelly and Andy Nicholson for research on this entry
and to Geoff Buxton for the photographs .