Winthorpe
All Saints
Glass
Click the numbers in the key plan for details of the items.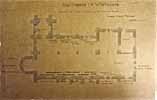 Stained glass
windows plan
A 'Scheme for filling in windows with Stained Glass' was submitted by Messrs. Heaton, Butler and Bayne, presumably at the time the church was being built in 1886-8. Although many of the themes suggested do exist in the windows we see today, they are not necessarily in the positions originally marked, and some were never installed.
North Aisle (North wall)
Although subjects had apparently been decided for all five single-light, arched windows along the north aisle, the consecration booklet does not mention any of them. It seems likely, then, that at the time of Consecration, all of these windows would have been filled with plain, coloured glass, as per window 5 on the plan.
Nave
The three windows on the south wall are pairs of lancets with a cinquefoil above. The centre pane of each cinquefoil depicts an angel carrying a banner with the word 'ALLELVIA' inscribed on it, and in windows (13) and (14) this pane rotates horizontally to provide ventilation. These two windows were also installed when the church was built, and are by Messrs. Heaton, Butler and Bayne.
Baptistry
In the baptistry there are three lancet windows installed by Messrs. Heaton, Butler and Bayne at the time the church was built.
Porch
Tower stairs and ringing room
There is a small arched window on the west wall of the stairs, and lancet windows on all sides of the ringing room except for the south wall, all being plain, coloured glass. The east and west windows in the ringing room contain hopper-style opening panels near the top.