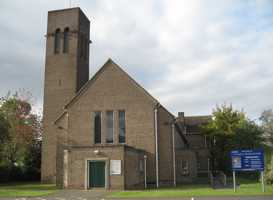 Woodthorpe
St Mark
Nottingham Archdeaconry
Gedling Deanery
Introduction
This large grey-brown brick church was designed by R Cooper and consecrated on June 23rd 1962. It replaced the Church Hall, now Woodthorpe Library, which had been used for services since 1950.
The church comprises a long nave with a step to a wide chancel, side aisles, sanctuary, tower (with one bell by J Taylor), choir and clergy vestries, parish office, entrance lobby at the west end with cloakroom facilities and another porch on the north side. On the north side stands St Mark's Chapel, connected by door to the chancel.
A steel framework forms the core of the slender columns supporting the roof. These columns are painted in a striking burgundy and white combination, as are the panels in the attractive ceiling. The individual chair covers also match.
A wooden cross hangs in front of a coloured dossal over a plain oak communion table.
All the windows are plain and rectangular, six on the north side, five on the south and a large one with three lights above the main west entrance.
The organ was reconditioned and installed by Henry Willis Ltd, and originally built by Cousens of Lincoln for Mount Tabor Methodist Church, Long Eaton. Centrally placed at the west end is the plain stone font, bowl-shaped on three sturdy legs.
There is a large cross on top of the tower and another outside of stone, attached to the otherwise blank east wall.
Particular thanks to Mike Rowan, Professor John Beckett and Dr Chris Brooke for research on this entry
and to Geoff Buxton for the photographs.