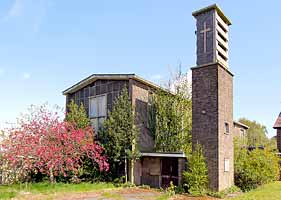 Bestwood
St Matthew on the Hill
Nottingham Archdeaconry
Nottingham North Deanery
Introduction
Originally there was a mission church completed in June 1939 and called St Francis. In 1949 a scheme was started to build a new church on Bestwood Estate, eventually called St Matthew's on the Hill and consecrated in October 1959.
The original St Matthew's on Talbot Street, Nottingham, had closed in 1952 and been demolished in 1956. The new church was designed by Vernon Royle, who was much influenced by Sir Basil Spence's three churches in Coventry. He built 'a great barn' 90 feet x 30 feet high, the walls and roof supported by great precast concrete frames. There is no division between the nave and the chancel.
The building, of brick and precast panels, comprised nave, chancel, chapel, porch and clergy vestry. It was hoped to build a tower and choir vestry and the tower was eventually built but at low cost.
All of the windows were long and rectangular; the great west window and the two large ones at the east end were composed of insulated glass blocks. Stained glass windows, including one by Kempe of St Michael slaying the Dragon, were transferred from the old St Matthew's. So were the bell, the pews (now painted), the altar table, lectern, font, choir stalls and litany desk. The font stood on the foundation stone of the earlier mission church.
A canopy hung over the altar table, and near the pulpit there was a Cross and Crown of Thorns made by a local apprentice. Candlesticks were made by pupils of Padstow School.
The church was damaged by a fire in 2009 and was demolished on 3 May 2019. The parish is now united with Bestwood St. Philip.
Particular thanks to Amy Calladine and Dr Chris Brooke for research on this entry
and to Geoff Buxton and Dr Chris Brooke for the photographs.