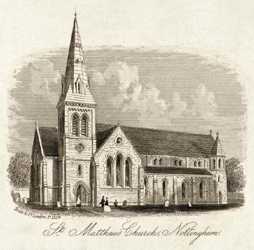 Nottingham
St Matthew (Talbot Street)
Nottingham Archdeaconry
Nottingham South Deanery
Introduction
St Matthew's Church was opened in 1856 to serve the growing population in the north western district of St Mary's parish. Located on an outcrop of sandstone it had its north side and main entrance on Upper Talbot Street, with another access to the site from Wollaton Street, which was some twenty feet lower than Talbot Street. The building was designed by a prominent London architect, Henry Roberts, in the French Pointed style and built by a local contractor, James Hall and Son. The project was funded partly by the Church Building Society who contributed £4500, half the cost, and members of the public including many prominent figures of the town. So successful was the funding effort that £7500 of the £9000 was raised before any work started.
All appeared well until the 1920s when due to gradual changes in the local residential population caused by urban drift the area became slowly but surely a business district. By the 1930s this process resulted in a year on year falling congregations and reduced income, sometimes creating annual financial deficits. The vicar in 1952 produced a study showing that the number of communicants was only half that of 1938. He suggested that most of the people who lived in the parish were "birds of passage". Many of the larger houses once occupied by wealthy parishioners were in 1952 used as boarding houses and small hotels. Baptisms were a rare event and only two or three marriages a year were requested. Finally in 1952 some six acres in the lower part of the parish were compulsorily purchased to allow demolition and the building of the new Nottingham Technical College (now Nottingham Trent University). The end came in 1953 when at a vestry meeting a resolution to close the church, which had been suggested by the Archdeacon, was passed. Of the 36 members of the Church council present only one voted against the proposal whilst most abstained. For many years the Church Council like the church membership had been composed predominantly of people who lived outside the parish. The church closed in September 1954.
Before demolition in 1957 many of the church fittings were removed to a new St Matthew's at Bestwood where some remain, though that church was severely damaged by fire in 2009.
Particular thanks to Doug Fletcher for research on this entry