Nottingham St Matthew
Organ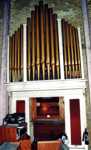 The organ
resited at
St Matthew's
Bestwood
The new organ for St Matthew's was built and installed by Walkers. It had one manual and was hand pumped. Originally it was installed in the west gallery. Stops were:
Great

Mixture
3'
Fifteenth
2'
Clear flute
4'
Principal
4'
Open diapason
8'

Pedal

Dulciana
8'
Stopt. Dia. Treble
8'
Bourdon
16'

Couplers

Great to Pedal
In 1890 it was remodeled by Brindley of Sheffield who added china stops. By 1919 it was in need of extensive repair, estimated to cost £750, this was increased to £807 in 1920. An appeal was launched but it was not until 1921 that the work was carried out. Finally in March 1921 the work was completed at an increased cost of £890, partly due to the whole organ being moved into the chancel. At some date between the re-siting and 1939 Messrs Lloyds and Company enlarged the instrument and added an electric blower.
Following the closure of St Matthew's Talbot Street the organ was removed and rebuilt by Henry Willis and Son before its 1959 installation in St Matthew's Church Bestwood. It continued to be used until the church was badly damaged by fire in 2009. It was not affected by flame contact, but suffered other damage. In 2011 it was said to be beyond economical repair, but like the entire building it was awaiting a decision on its future.