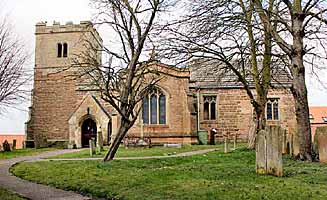 Bilsthorpe
St Margaret
Newark and Southwell Archdeaconry
Newark Deanery
Introduction
Bilsthorpe was transformed in the mid-1920s with the coming of the colliery. Before that time it was a small village, a secondary settlement to nearby Eakring and devoid of a church at the time of the Domesday survey. This situation may have continued for some time, as it is not until the early years of the thirteenth century that the presence of a priest is recorded and the earliest extant fabric of the body of the church has been dated to the fourteenth century. What are claimed to be the remains of a stone preaching cross, which pre-dated the church, are preserved in a glass case in the south transept.
The church, dedicated to St Margaret (of Antioch), stands on a rise above the village, with recorded evidence of a moat and with the former large parsonage house and manor house in close proximity. The living is a rectory, but the seventeenth century archbishop John Sharp in his Survey of the York Diocese (based on the work of James Torre) records that "the Rector here had sometimes a Vicar instituted at the Presentation of himself with the consent of the Patron who had the whole profits of the Church except a small pension".
The Taxatio of Pope Nicholas IV, of 1291, showed a value, at one-tenth, for the church of £5 0s 0d and of a pension for the rector of Kneesall of 10 shillings. Fifty years later the Nonarum Inquisitiones, a valuation of a ninth of the corn, fleeces and sheep (at £4), when added to the value of 11 acres of timber-bearing woodland, mortuary fees and oblations came to £6 3s 4d.
Particular thanks to Derek Walker for research on this entry
and to Dr Christopher Brooke for photographs