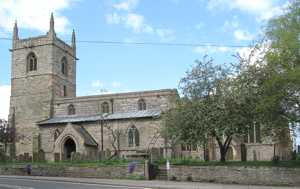 Kneesall
St Bartholomew
Newark Archdeaconry
Newark and Southwell Deanery
Introduction
No church is mentioned here in Domesday Book, though fragments of an Anglo-Saxon shaft remain.
The current building was originally an Early English stone (local skerry) structure, and now consists of a chancel, a nave with clerestories, aisles with arcades of three bays, a south porch and a western tower with pinnacles, three bells and a clock.
The rich tower of c1425 is decorated with animals and angels instead of gargoyles. There is a good early doorway in the tower. The nave has slightly different north and south arcades on octagonal piers, with moulded capitals and arches. The aisle windows are Perpendicular, with arched heads to the north aisle and straight heads to the south. There is a Perpendicular clerestory and the five-light east window is particularly representational of the Perpendicular style.
Eleven symmetrical benches of the 15th Century remain, mainly plain except for one face. In the south wall is a plain aumbry and opposite is a piscina. There is a brass plaque dedicated to John Whyley Chell killed in South Africa during the Boer War.
Considerable restoration took place in 1873 to the porch and south aisle roof, and in 1893 to the tower. This was by Hodgson Fowler.
A few years ago it was decided to convert the church into a multi-function building. The Bill Hemsley Community Hall in the church was opened in 2002. The chancel remains consecrated as a church, and it is separated from the hall (which occupies the nave) by a glass screen which can be raised. The project was the idea of Bill Hemsley, a local farmer, and was paid for partly by £195,000 from the National Lottery Community Fund.
Particular thanks to Ray State for research on this entry
and to Ray State, Geoff Buxton, Dr Chris Brooke, David Harper and Jane and Bill Paulson for the photographs.