Kneesall St Bartholomew
War Memorial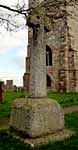 The war memorial is sited in the churchyard adjacent to the road and comprises a large Celtic style cross on a tapered limestone plinth. It was unveiled by Earl Manvers in April 1920.
The inscription on the south face of the plinth is badly weathered but reads:
1914 – 1918
R. I. P.
| | | |
| --- | --- | --- |
| ALFRED CHELL | | JOHN HALL |
| HAROLD CHELL | | ALBERT HAZZARD |
| JOHN HENRY FOSTER | | WALLACE PAULSON |
| GEORGE GRATTON | | ALFRED WALKER |
| WALTER GRATTON | | JOHN WOMBWELL |
MAKE THEM TO BE NUMBERED
WITH THY SAINTS
IN GLORY EVERLASTING
On the west face of the plinth is a worn inscription commemorating those who fell in the Second World War:
TO THE MEMORY
OF THE MEN WHO
DIED IN THE WAR
1939 - 1945
ALFRED WALKER
HAROLD ..........

Thirty-five names of those who served in the First World War are also inscribed on the north face of the plinth but unfortunately the stone is too weathered to read most of them. However, the Imperial War Museum's War Memorial Register includes a list of all the names on the memorial.
There is also a mosaic tablet in the church commemorating Alfred and Harold Chell who were both killed in the First World War (see monuments).