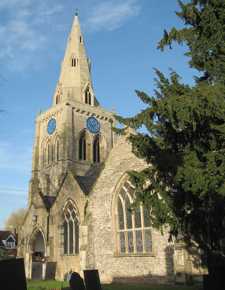 Bingham
St Mary and All Saints
Nottingham Archdeaconry
East Bingham Deanery
Introduction
Although Bingham today is only a small town, in the past it has had greater significance, being the meeting point of the Bingham Wapentake at the time of Domesday, and ecclesiastically the central point of Bingham Deanery.
The church was founded in the early 13th Century, and most of the structure is of the 13th and early 14th Centuries. It of a classic cruciform shape, with north and south transepts in addition to the nave and chancel, though the porch and vestries make this less obvious from the outside, and it has a well-formed broach spire. Much of the current interior is the work of Sir George Gilbert Scott, working in the 19th Century, and W D Caröe, in the early 20th. One of the bells celebrates the defeat of the Armada, and there are a number of fine carved headstones in the churchyard.
A number of the people of Bingham Church have had significant involvement with wider, and even national events. Four former rectors later became bishops, and one rector was a bishop before coming to the church.
Particular thanks to Adrian Henstock for research on this entry