Boughton St Matthew
Clock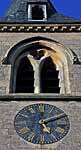 The clock has a single black face with white numerals on the southern side of the church tower.
The clock is charged with a mechanical hand rewind spring facility managed on a seven-day basis. The striking mechanism is set for an hourly chime from the single bell within the tower.
The plate affixed to the brass bell mechanism enumerates the hour setting and has the name printed thereon of Sharpe of Retford 1868.
A separate plaque indicates the clock was presented to the Parish of Boughton by John Thomas and Betsy Simpson July MDCCCIX0III.