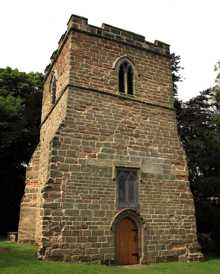 Bramcote
Old Church (St Michael)
Nottingham Archdeaconry
Nottingham South Deanery
Introduction
A small chapel was on the site in 1246.
The stone church (of which only the tower survives) was built in the 14th century. It was abandoned in 1861 and the nave, north aisle, chancel and south porch demolished in 1862. The Church of St Michael and All Angels dates from this time.
The embattled tower has pointed windows on all four sides of the top part and a square-headed Perpendicular window above the pointed doorway.
The tower stood as a ruin for many years but has recently been extensively restored. A modern stained-glass window designed by Escape, a group of women artists, was installed in 2009.
Most of the monuments and the 13th century font were removed to St Michael and All Angels', Bramcote in 1916 but part of an alabaster memorial to Henry Hanley, a badly damaged late medieval alabaster incised slab and several floor stones remain in the tower.
A medieval-style community garden has been created in the churchyard with information panels, seats and stone sculptures by Andy Smith.
Particular thanks to Prof John Beckett and Dr Chris Brooke for research on this entry
and to Geoff Buxton and Dr Chris Brooke for the photographs.