Brough St Stephen
Features and Fittings
Chancel
| | | | |
| --- | --- | --- | --- |
| Rood screen | Rood screen detail | Rood screen in 1983 | Sedilia and piscina |
Rood Screen
19th century wrought iron screen with paired gates and decorative cross above (approx. 13ft across and 11ft high); leading to former vestry there is a wrought iron gate.
Sedilia
In the south east corner of the Chancel is a triple pointed arched sedilia.
Piscina
Also in the south east corner is a pointed arched piscine.
Nave
Font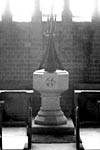 The font in 1983
In the middle of the west end of the Nave stood an octagonal stone font on a square base with elaborate crocketed timber cover.
Choir Stalls
To the left and right just ahead of the font were two sets of four re-sited choir stalls (origin unknown).
Seating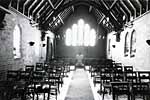 Wooden chairs and
chandeliers in
the nave (1983)
There were no pews, the chapel was filled with around 80-100 plain wooden chairs with book rests.
Lighting
The chapel was lit by five elaborate wrought iron chandeliers (four in the Nave and one in the chancel).
Hymn Boards
To the left and right of the chancel arch were two small wooden hymn boards.