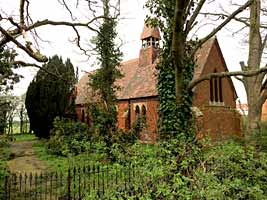 Brough
St Stephen
Newark Archdeaconry
Newark and Southwell Deanery
Introduction
A small Chapel of Ease built in 1885-6 as a Mission church to the parish of South Collingham.
The chapel was built by the Smith Woolley family and is entirely of red brick with a pitch tiled roof and small wooden framed bellcote. The chapel consists of a nave and chancel with a north vestry integral with the main body of the church. There are no burials within the churchyard.
This charming building has a number of pleasant stained glass windows. One of which, a single lancet window on the south wall is in memory of Major General Gordon, killed at Khartoum in 1885.
The chapel however only had a relatively short life. Being remote and poorly attended the PCC recommended it for closure in November 1985, exactly 100 years after its foundation. This was given formal approval on 24 January 1986 by the Bishop of Southwell. A few years later the chapel became the Diocesan Repository and has until recently been the main storage area for unused items from churches within the diocese.
Brough itself is a small hamlet lying three miles north of Newark and was once a prominent Roman roadside town along the Fosse Way close to the border with Lincolnshire. The area was heavily excavated by T C Smith Woolley in the early 20th Century and many pots, urns and coins were unearthed along with a ceremonial Roman cavalry helmet. So many Roman coins were found and so common were they, that they became known as 'Brough Pennies'.
Particular thanks to Jonathan Pickett for research on this entry
and Geoff Buxton, Dr Chris Brooke and Jonathan Pickett for the photographs.