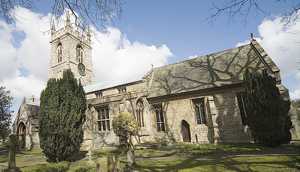 Collingham
St John the Baptist
Newark Archdeaconry
Newark and Southwell Deanery
Introduction
This ancient parish church dedicated to St John the Baptist, was originally the parish church of South Collingham.
Domesday Book refers to two churches at Collingham but also records that the village had only one priest. Subsequently, at least from the 13th century onwards, the two parishes were served by separate clergy. However, in the latter quarter of the 20th century the two parishes were served by only one parish priest.
The oldest part of the church is the north aisle which dates from the mid 12th century and which may incorporate fragments of an earlier building, with its arcades displaying fine Norman zigzag and lozenge decoration similar to that found at South Scarle. The one label stop is a gruesome head of a beast with a man's head in its mouth.
The tall tower dominating the village is of the Early English period. The two lower stages are 13th century whilst the top stage is Perpendicular with 15th century pinnacles.
The south aisle is a good example of Early English architecture c1250. It has piers of eight shafts, the ones in the main axes with fillets. The capitals are moulded, the arches double-chamfered and with heads as label stops.
The square-headed windows are late Perpendicular in style and are typical of the county.
The chancel dates from the 14th Century.
The nave clerestory is 15th Century.
Internally, the font is 13th century and there is a 14th century transom window in the sanctuary. In the nave can be seen evidence of alterations to the medieval roof. All the stained glass is either Victorian or early 20th century.
Crude examples of early Mass dials are to be found on the south-facing exterior wall of the chancel and also, unusually, just inside the south door. These are similar to sundials and were used to denote the times of services.
Particular thanks to Jeremy Lodge, Chris Brooke and Andy Nicholson for research on this entry
and to Geoff Buxton and Chris Brooke for the photographs.