Brough
St Stephen
Monuments and Memorials
The most notable memorial in the chapel is a bronze memorial on the south wall of the nave with two figures either side in high relief to Thomas Cecil Smith Woolley. It is signed 'Geo. Frampton, R.A.'
The inscription reads:

TO THE GLORY OF GOD
THESE WINDOWS ARE DEDICATED
IN LOVING MEMORY OF THE LIFE OF

THOMAS CECIL SMITH WOOLLEY

BY HIS FAMILY AND HIS FRIENDS
AT BROUGH AND DANETHORPE

BORN AT SOUTH COLLINGHAM ON THE 16

TH

DEC
1853 HE PASSED TO PARADISE ON THE EVE OF
THE PURIFICATION OF SAINT MARY THE VIRGIN
IN THE YEAR OF OUR LORD 1913 AT BROUGH

HE SERVED THIS HAMLET WITH DEVOTED LOVE
FOR THIRTY EIGHT YEARS. THE CHURCH AND
SCHOOL STAND FOR OUTWARD WITNESS
OF HIS WORK AND THE HEARTS OF MANY
GIVE THANKS FOR HIS LIFE + + + + +
On the south wall of the chancel there is a small bronze plaque dedicated to Charles Constable Curtis. The inscription reads: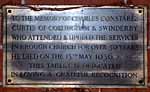 TO THE MEMORY OF CHARLES CONSTABLE
CURTIS OF COLLINGHAM & SWINDERBY
WHO ATTENDED & UPHELD THE SERVICES
IN BROUGH CHURCH FOR OVER 50 YEARS
HE DIED ON THE 13

TH

MAY 1936.
THIS TABLET IS DEDICATED
IN LOVING & GRATEFUL RECOGNITION.
Many of the stained glass windows are in memory of local people with a connection to the church (see the glass section) though there is also one in memory of General Gordon of Khartoum.