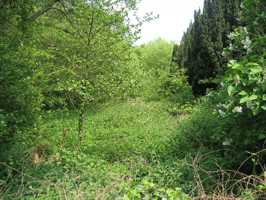 Budby
Chapel
Newark Archdeaconry
Mansfield Deanery
Introduction
Budby is a rural model village built by the Earl Manvers in about 1807, consisting of dwellings in a Swiss or Gothic style, erected at the south-west corner of Thoresby Park, on the Worksop road, three miles north-west of Ollerton, adjacent to the river Meden. The Medieval Parish was part of the Berewick in Edwinstowe.
The provision of a Mission Chapel was made in 1887, which was iron-clad and sited adjacent to the river Meden on the Thoresby Estate at Budby. The corrugated roof building had a turret, which housed a single bell of some antiquity.
This Chapel never became a Chapel of Ease in the normal sense, but was owned by the Thoresby Estate, though geographically in Edwinstowe parish.
Services were held at regular intervals, especially during the summer months, generally in the traditional form of Holy Communion, Matins and Evensong.
Following some accelerated deterioration of the building structure in 1967, it was decided that the building be demolished. The last service was held during February 1968 following which the building was demolished and its furnishings then disposed of.
The vicar at this time, the Revd Harold Pickles remarked at the last service that: Although we have natural hallowed associations with the building, the Church is first and foremost the people of God, and not just a building or place.
Particular thanks to Bryan Frettsome for research on this entry