Budby
Chapel
Features and Fittings
All the chattels and fittings from this chapel were absorbed into the local churches which supported or controlled the parish's previous activities.
Altar
This was a simple oak-framed assembly, which supported various coloured frontals fixed by common hooks and eyes. The altar was sent to the Carburton Church for their use owing to the dilapidated state of their own.
The "Chappell of Carberton" is itself one of the three chapels-of-ease to "the antient mother church of Edwinstowe." It stands, as the name implies, on "the Cars," or land liable to flood, in the "barley enclosure" of the king's manor of Mansfield.
Font
A wooden font was provided, the current whereabouts is still a mystery apart from it being returned to the Thoresby Estate wood-yard when the Chapel was demolished.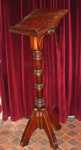 The wooden
lectern
Lectern
The pine lectern with its turned supporting pole was most probably made at the workshops on the Thoresby Estate. Suitable equipment was available at that time [1888] together with the skilled craftsmen to construct it. This lectern is now in regular use at the St John the Evangelist church, Perlethorpe.
Church Plate
The church plate was presented by the Hon Earl Manvers having been made by Jones & Willis comprising of a Victorian silver communion set each piece engraved with a cross, the Hallmark is London 1888 and maker HE Willis.
The intimate description advises us that the Chalice had plain circular bowl, with single knopped stem, and terraced circular foot. Size: 7cm. diameter – 14cm. high – weight 4oz.
The Paten had a circular shallow moulded bowl. Size: 12cm. Diameter – weight 2oz.
A matching Wine flagon and cover was also provided. The cover had a finial in the form of a cross, the flagon being a pear shape with a single reeded girdle to the neck, a scrolled handle, and terraced circular foot. Weight 12oz.

One of the chairs
Seating
Separate pine and beech wooden chairs were provided for the congregation. These were dispersed to the Thoresby Estate Youth Club, Perlethorpe Church and other more elusive destinations.