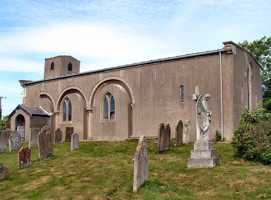 Carburton
St Giles
Newark Archdeaconry
Bassetlaw and Bawtry Deanery
Introduction
There is no mention of a church in Domesday Book and the place always seems to have been quite small. The largest the village ever grew to was in the early 17th century; a map dated 1615 shows 21 houses and crofts. Up to the Reformation the church was probably owned by Welbeck Abbey and in the early 14th century there was a petition against the Abbot of Welbeck for enclosing land near the abbey belonging to Carburton.
The church comprises a nave and chancel under one roof, a south porch, and evidence for a former south aisle. At the west end of the nave is a diminutive bell turret. The core fabric dates from c.1100-1125 with a south aisle added later in the 12th century. It is evident from the truncation of the westernmost blocked aisle arcade that the church once extended further to the west and has been truncated. The simple wooden door into the nave may be contemporary with the doorway, i.e., early 12th century.
There are 12th and 13th century windows and a Norman font of a simple, early form. The bell turret dates to the 18th century as does a sundial located at the south-west angle of the nave. It may be to this period that the truncation of the church dates. The whole building was restored in the 1880s.
There were once two bells, the present sole bell is evidently of 19th century date, and the second was probably medieval judging from the shape it occupied in the bellframe.
There are 14th century grave-markers by the entrance to the nave and a monument in the chancel floor to Sir John Mazine, d1677, who was horsemaster to the 1st Duke of Newcastle.
The church closed for worship in 2017.
The dedication to St Giles appears to have changed in time as Arnold-Forster records it as being to St Mary.
Particular thanks to Andy Nicholson, Amy Calladine and Dr Chris Brooke for research on this entry
and to Geoff Buxton and Dr Chris Brooke for the photographs.