Carburton
St Giles
Monuments and Memorials
Chancel
There is a small floor stone in the sanctuary floor in memory of John Mazine, 'honorary keeper of the Royal Stable' and the Earl of Newcastle's master of horse. According to the parish register he was buried on 7 July 1677.

IN RESURRECTIONS DIEM
ANIMAE HABITACULUM HUIC URNAE
COMMITIT IOHANNES MAZINE ARMIGER
REGII STABULI MINISTER HONARARIUS
IN UXOREM DUXIT FILIAM ANTHO
NII BARBER DE WINDSOR IN AGRO
BERROCENSI OBIIT PRIMO DIE IULII
ANNUM AGENS SECUNDUM
SUPRA SEPTUAGENARIUM
AN: DOM:
M D C L XX VII
The translation reads:
In hope of the Day of Resurrection to this urn is committed John Mazine armour bearer and honorary keeper of the Royal Stable. He married the daughter of Anthony Barber of Windsor, in the land of Berkshire. He died the first day of July in the year after reaching the age of seventy in the year of our Lord 1677.
Marshall (1888) records several inscriptions in the floor of chancel:
Here lieth the body of
Mr Daniel Cowley who departed
this Life January the 8th
in the Year of our Lord 1769
in the 71st year of his age.


Mourn not dear children for my deceise
I hope with Christ I've made my peace
Life is uncertain Death is sure
Sin gave the wound & Christ the cure.
Oh that you were wise that you understood this
That you would consider your latter end.
Here
Lieth interred the Body of Elizth ye wife
of Daniel Cowley who
Departed this Life
February the 27th in the
Year of our Lord 1753
in the 50th year of her Age.
Here lieth in hopes of
a joyful Resurrection the
body of Elizabeth ye wife
of George Bayley
and daughter of Daniel
and Elizabeth Cowley
who departed this life
May the 3rd in the year
of our Lord 1758 in the
28th year of her age.
Nave
There are two monuments on the north wall of the nave.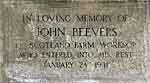 IN LOVING MEMORY OF
JOHN BEEVERS
OF SCOTLAND FARM WORKSOP
WHO ENTERED INTO HIS REST
JANUARY 24TH 1941

IN EVER GRATEFUL MEMORY OF
ANNIE STENTON
WHO BY GOD'S AID HELPED TO GIVE HEALTH AND
HAPPINESS TO MANY SUFFERING CHILDREN
FROM 1909 UNTIL THE DAY OF HER DEATH 19TH DEC 1938.
THIS TABLET IS PLACED HERE BY
THE DUKE AND DUCHESS OF PORTLAND
There are also two monuments on the south wall.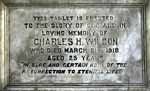 THIS TABLET IS ERECTED
TO THE GLORY OF GOD AND IN
LOVING MEMORY OF
CHARLES H. WILSON
WHO DIED MARCH 21ST 1918
AGED 25 YEARS.
"IN SURE AND CERTAIN HOPE OF THE
RESURRECTION TO ETERNAL LIFE."