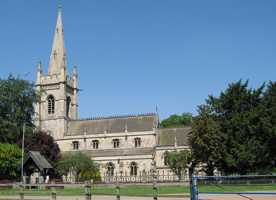 Perlethorpe
St John the Evangelist
Newark Archdeaconry
Mansfield Deanery
Introduction
The Parish Church of St John the Evangelist at Perlethorpe stands in the ancient grounds of Thoresby, as listed in the Domesday Book, later to become the ducal estate of the Pierrepont Family, viz Earls & Dukes of Kingston upon Hull and Earls Manvers, whose forebears had arrived on these shores at the time of the Norman Conquest.
The current church building provided by the 3rd Earl Manvers consists of a Chancel, Nave with north and south aisles, a western tower with spire, a south porch and a vestry.
The church was given by William II to the Dean and Chapter of Lincoln as one of the Chapelries of Edwinstowe and is mentioned in the first Chronicle of 1146. Edwinstowe remained with them until 1878 when Earl Manvers exchanged it for St Mary's at Nottingham. However in 1836 Perlethorpe, with Thoresby included, was created a separate benefice following an Act of Parliament, allowing Earl Manvers to endow the chapelry.
Perlethorpe along with Carburton, an adjoining chapelry, and Elsworth, near St Ives, in Cambridgeshire, has the oldest parish register in England [1528] and contains entries of births, marriages and deaths.
Particular thanks to Bryan Frettsome for research on this entry