Perlethorpe St John
Churchyard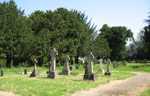 The eastern part of the churchyard
The present churchyard incorporating the church building is a little over one and a half acres in size, and is amidst a rural and otherwise mature landscape of Thoresby Park.
The Pierrepont family graves stand in line with the East window. The Celtic cross of the 3rd Earl Manvers gravestone, stands at a point symmetrical with the crosses on the roof and the old church altar.
It should be noted that some other members of the ducal Family are buried at Holme Pierrepont Church just outside the City of Nottingham.
The large ashlar table tomb which has a hipped lid and ball feet, is dated 1812, was originally within the previous church building but now lies some 150 metres to the eastern end of the churchyard, commemorates Major Charles Alphonso Pierrepont, a 'family' member who died, as noted on the much eroded raised letters on the table tomb's chamfered plinth:
Sacred be this spot
To the memory of
CHARLES ALPHONSO PIERREPONT
A Major in the British Service
Who lost his life most Gallantly
While storming an Outwork near Burgo
Of an Ancient and Respectable Family
On whom by his excellent Conduct
He conferred Honour
He was interred on the field where
He fought and fell
September 19th 1812.
By Foreign Hand die Humble grave ordered
Strangers Honoured and By strangers mourned
The Rev WB Cardew, Curate in Charge, for Earl Manvers, who held services at Perlethorpe from 1890 to 1924, recovered the old stones now forming the rear of the monument, from an adjoining field at Thoresby. The monument itself is now suffering from severe erosion due to exposure to the weather, since being placed outside when the Church building was demolished. (Click here for further information about Charles Alphonso Pierrepont.)
Other Gravestones within the Churchyard
Some of the older remaining gravestones are positioned 100 metres to the south-eastern side of the churchyard, include several from the Clay and Marshall families, a group of four being listed as items of special historic interest. These include Rebekah and Isaac Marshall, who were buried in November 1716 and June 1786, respectively. Their son Robert, who was born in February 1682, and buried in February 1706, with other members of the family. In 1740, Hannah Clay joined the group.
It is well reported that Earl Manvers held his joiners in high esteem for their skill and for many years were responsible for repairing or making new parts for Victorian and Queen Anne furniture items. A fine tribute to Alfred Middleton, one of the joiners, is made on his gravestone, positioned in the central south of the churchyard on 31st January 1935. The tools of his trade are carved into the base of the rustic cross.
One of the Thoresby Estate Agents, Robert Walter Wordsworth (1849-1914), was buried on the 1st May 1914 to the north-eastern side of the Church, adjacent to the Family area. RW Wordsworth's grave site has supine cross and plinth, made by Gaffin of Regent Street, is adorned with the following inscriptions:
To the West:
"At evening time it shall be light"
Zec XIV - 7
and to the East:
"In quietness and in confidence shall be your strength"
Ish XXX - 15.
Nathanael Simmons
He died in August 1868 at the age of 18, "whose death was caused by a fall from the large tower of Thoresby new house". His gravesite is positioned adjacent to the Alphonso table tomb.
Nathan Child
This man was a negro and servant to the Earls of Kingston, was buried on the 18th August 1690 adjacent to the point where the altar of the previous church was believed to be positioned. The stone inscription reads:
Here lyeth the body of Nathan Child
late of Thoresby, Gent,
who was faithful servant to the
Right Honble Robert and William,
Earls of Kingston,
who departed this life
Aug. 17 Anno Domini 1690
Handley Dawson
Mr & Mrs Barbara Loveday were a couple who returned to Perlethore after a time away. Barbara's mother was Laura Ellen Smith, born at West Marham in 1907 and who married Handley Dawson in 1929 at the Mausoleum. Handley was a horseman on the Thoresby estate, their son Raymond was only nine months old when his father was killed on 7th July 1933, by lightning, whilst working on the land.
The Worksop Guardian dated 14th July 1933 gave report 'Dawson had left the old pleasure grounds in Thoresby Park, and when leading his horse, and accompanied by a young employee, was struck by lightning at the peak of a storm. The remarkable fact was that the horse he was leading, although affected, escaped injury.' The article goes on to describe the District Coroners report and its grim details, which, for obvious reasons, should not form part of this entry. The August 1933, Perlethorpe-Cum-Budby parish magazine stated, 'Mr Dawson was one of those people that one almost instinctively trusts and likes. As a workman, industrious and conscientious; as a man, quiet and retiring, but always willing to help and take part in whatever was for interest of the parish; as a neighbour, cheery and obliging; as a friend, sincere and true.' The funeral which was further reported in the Retford Gainsborough and Worksop Times, the 21st July 1933 edition; noted great support from his family and work colleagues from Thoresby.
After Handley's death, Laura was offered the Post Office in Perlethorpe as a home and business, before moving to Cleethorpes in 1950. Laura remarried Charlie William Rossin when he was stationed at Thoresby and were married in Perlethorpe church on 2nd December 1944. Laura's son Charles Derek was born in 1946 and Barbara Ann was born in 1949, both at the Perlethorpe Post Office, and were both baptised at St John's Perlethorpe during October and February respectively.
Service Graves
Two First World War service graves are located adjacent to the eastern pathway:
Thomas Henry Masding
The first services grave is registered to Thomas Henry Masding of the Lincolnshire Regiment, September 1917, aged 41 years according to the church register. Thomas was born in about 1875 in Sleaford, Lincolnshire the son of Henry and Betsy Masding. In 1881 Henry snr, was a Cab Driver and the family were living in Newark upon Trent. Thomas was listed in the 1881 census as Henry. At the time he enlisted Thomas was living at Empingham, "Lincolnshire" and enlisted at Worksop. He initially served with the Sherwood Foresters (Notts and Derby Regt) as 7105, but later transferred to 3rd Battalion, Lincolnshire Regiment, where he served as Cpl 9533. The Roll of Honour names him as living in Perlethorpe and serving with the Lincolns, his second not his first regiment, although it is dated October 1914. The Naval & Military Press 'Soldiers Died Schedule' notes he died "home", ie in the UK, and that he was aged 42. He was the husband of Frances of Empingham, Oakham, Rutland. By the time the Commonwealth War Graves Commission (CWGC) compiled its records Frances had remarried, her new surname being Wallhead. His family chose an inscription for his headstone:
REST AFTER WEARINESS
PEACE AFTER PAIN
This could imply he may have suffered from wounds received in action for some time before he succumbed on 31st August 1917.
Ernest Frederick Landen
The second services grave is registered to Ernest Frederick Landen of the 4/1 Cambridgeshire Regiment, July 1917, aged 41 years. This second services casualty to be buried in the churchyard was a man with no obvious connection to the village or Estate. The Naval & Military Press 'Soldiers Died Schedule' informs us that Ernest Frederick was born in Croydon, Surrey, had enlisted at Folkestone and had served with the East Kent Regiment, service number G/9653. At some time later he transferred to the Cambridgeshire Regiment, 1st Battalion and served as Private No 327224. The CWGC, gives additional information that he was serving with 4/1 Battalion Cambridgeshire Regiment which implies that it was a "home service battalion" and that, perhaps, Ernest was no longer fit for front-line duty. It also tells us that he was 41 when he died on 29th June 1917 and was the youngest son of the late Richard and Emily Landon of Croydon.
We presume he died of the effects of wounds received in action, but we are still not sure why he was buried in Perlethorpe. His parents were both apparently dead by the time the CWGC compiled their information in the early 1920's, but perhaps a brother or sister supplied the information and chose and paid for the personal inscription, which appears on his headstone.
The inscription chosen for his headstone is:
Malachi Ch 3 v 17
"And they shall be mine, saith the Lord of hosts, in that day when I make up my jewels; and I will spare them, as a man spareth his own son that serveth him"
Garden of Remembrance
A Garden of Remembrance was created at the south-east corner of the church building to meet an expressed need. This was provided in 1993 and has an overall dimension of 25 feet by 14½ feet.