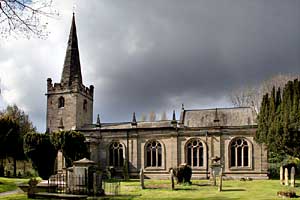 Holme Pierrepont
St Edmund
Nottingham Archdeaconry
West Bingham Deanery
Introduction
This stone medieval church has a chancel, nave, south porch, south aisle, south-east mortuary chapel, and an embattled Perpendicular west tower (with spire) containing five bells.
The great feature is the south aisle with classical porch, both dating to c.1666, and three-light windows with 'posthumous Gothic tracery'. The rest of the church is 13th century apart from the chancel, restored in 1878 by T C Hine in an elaborate Decorated style.
There is a complete Early English arcade with quatrefoil piers, double-chamfered arches and corbel heads.
The font is octagonal with shields but no quatrefoils and dates from the 15th century. A stained glass east window is by Powell & Sons, 1913.
The great attraction of the church is the array of monuments, mainly to the Pierreponts. These include: Sir Henry Pierrepont (d1499), in full armour, a good alabaster, 'probably the best of its kind in the country'; Sir Henry Pierrepont (d1615) husband of Frances Cavendish, Bess of Hardwick's daughter - A splendid tomb by John Smythson, son of the architect Robert Smythson; a large wall monument, with skull and crossbones for Princess Gertrude of Kingston (d1649); John Oldham, poet (d1683) - a tablet surrounded by swags, etc, as good as work by Grinling Gibbons; the Duke of Kingston (c1806) by Michael Taylor of York; Hon Evelyn Pierpont (d1802) by Flaxman; William Saltrend (d1811) profile of a woman reading, also by Flaxman; and Lady Sophia Pierrepont (d1823) by Pierre Bazzanti of Florence.
Particular thanks to Ray State, Dr Chris Brooke and Andy Nicholson for research on this entry and to
Geoff Buxton and Dr Chris Brooke for the photographs.