Holme Pierrepont St Edmund
Features and Fittings
Chancel
Reredos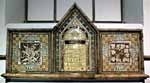 There is decorated Art Nouveau reredos that dates from the 1878 restoration. This is in Fauld alabaster with glazed tile insert which may well be from Coalbrookedale, Shropshire and is reminiscent of the work of Maw and Co., though the designers here were Shrigley and Hunt of Lancaster. The line of the reredos is carried round the east end of the chancel with a decorated dado rail which is unusual.
Choir Stalls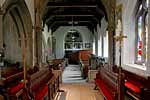 Choir stalls looking west
The chancel contains wooden choir stalls with pierced backs on the front row and a reading stand on the south side: all date from the 1878 restoration.
Nave
| | |
| --- | --- |
| Pulpit | Carving |
The north-east corner of the nave contains a 19th century (possibly 1878) alabaster and ashlar pulpit which may well be Italian. There is inset freestone carving of the Sermon on the Mount set behind glass.
The church has low wooden pews in the nave but the south aisle is clear to permit inspection of the monuments.
Lectern
Alabaster screen
dividing the nave
from the chancel
There is a brass eagle lectern at the south-east angle of the nave. It dates from the 1878 restoration.
A low alabaster screen divides nave from chancel, it is carved with scrollwork on the south side and is probably the same date and maker as the pulpit.
South Aisle
| | |
| --- | --- |
| Font | Old font |
The south aisle has a 15th century octagonal font with single broach stops to alternate sides and with bowl decorated with blind shields set in quatrefoils. This is an import, the original font, also octagonal and from the same era is located in the graveyard north-east of the church.
Vestry
A cast iron safe is located in the vestry and is dated 1831.