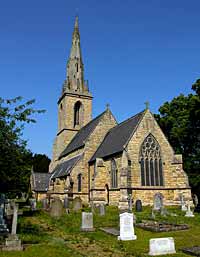 Carlton-on-Trent
St Mary the Virgin
Newark Archdeaconry
Newark and Southwell Deanery
Introduction
A medieval church existed on the site of the present building which was a chapel-of-ease belonging to the parish of Norwell. This building contained Norman fabric but evidently had been much modified at later periods and a surviving painting indicates much 18th Century work. This early chapel was demolished in 1849.
The present building was constructed in 1849-1851 and comprises a chancel with vestry, nave with north and south aisles, a south porch, and a west tower with high, crocketed spire in the Decorated style. The patron was John Vere, and the architect was G G Place of Nottingham (who is buried in the churchyard).
Of the earlier church, a few remnants remain: the south doorway of the nave, which is of Transitional form and probably dates to c1200; a 14th Century window in the north wall of the chancel; and the unusual bellframe of Elphick 'J' form, which has been tree-ring dated to 1547. There is one bell of 18th Century form, probably also from the earlier church.
The interior contains seven stained glass windows, three dating from the period of building and four from 1860.
Particular thanks to Margery Brown, Michael Jones and Andy Nicholson for research on this entry
and to Geoff Buxton and Margery Brown for the photographs.