Carlton-on-Trent
St Mary
Monuments and Memorials
Chancel
On the north wall of the chancel is a brass plaque in memory of George Brenton Laurie who was killed in the First World War. The inscription reads: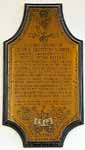 IN LOVING MEMORY OF
GEORGE BRENTON LAURIE,
LT COLONEL COMMANDING 1ST BATTN.
ROYAL IRISH RIFLES,
2ND SON OF LT GENERAL LAURIE C.B., M.P.
WHO FELL IN ACTION ON THE GREAT
EUROPEAN WAR ON FRIDAY, MARCH
12TH 1915, AGED 47, WHILE GALLANTLY
LEADING HIS MEN IN A VICTORIOUS
CHARGE AT NEUVE CHAPELLE, FRANCE.
TWICE MENTIONED IN DESPATCHES,
HE RECEIVED HIS COMMISSION IN 1885:
FOUGHT THE EGYPTIAN CAMPAIGN
1889: THE SOUTH AFRICAN WAR 1901 & WAS
AWARDED THE QUEEN'S MEDAL WITH 5 CLASPS.
There is also a decorative brass plaque in memory of John Vere who died in 1883: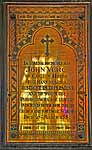 IN LOVING MEMORY OF
JOHN VERE,
OF CARLTON HOUSE,
FOR MANY YEARS A
RESIDENT IN THIS PARISH,
AND TO WHOM THE
PARISHIONERS ARE LARGELY
INDEBTED BOTH FOR THEIR
CHURCH AND FOR THEIR SCHOOLS,
DIED 27TH MARCH 1881.
Nave
On the west wall of the nave, behind the pulpit, is a brass plaque to James Vere who died at Torquay on 3 February 1883, aged 84:

IN LOVING MEMORY OF
JAMES VERE
OF CARLTON HOUSE
WHO DIED AT PARKHILL, TORQUAY FEBRY 1883.
HE GENEROUSLY ADDED THE SPIRE
AND GAVE THE STAINED GLASS WINDOWS
TO BEAUTIFY THIS EDIFICE.
Immediately beneath is a plaque to Florence Viscountess Masserne and Ferrard who died in 1978 aged 106:
IN LOVING MEMORY OF
FLORENCE VISCOUNTESS MASSEREENE
AND FERRARD
Who all her life was a worshipper in this church
and who died on Dec. 14th, 1978 in her 106th year.
A plaque to John and Ruby Sides is fixed to the west tower arch immediately to the north of the wooden screen:
In grateful memory of
JOHN WILFRID SIDES
1909 – 1987
And his wife
RUBY MARY ELIZABETH SIDES
1912 – 1992
Organist 1932 – 1980
South Aisle
Beneath the west window of the south aisle is a brass plaque in memory of Clementina Skeffington Craig who died in 1937:

IN LOVING MEMORY OF
CLEMENTINA
WIDOW OF THE HON. SYDNEY SKEFFINGTON
AND COL. JAMES CRAIG,
WHO FOR FIFTY YEARS RESIDED IN THIS PARISH
AND WORSHIPPED IN THIS CHURCH
SHE DIED ON THE 2

ND

DEC. 1937,
AGED 94 YEARS.
Nearby on the south wall is a plaque to two of her children who both died young:

IN LOVING MEMORY OF
CECIL DE VERE
ONLY CHILD OF COLONEL CRAIG, LATE LIEUT COLONEL
COMMANDANT AND COLONEL 2ND BRIGADE
NORTH ISH DIVISION ROYAL ARTILLERY,
AND OF CLEMENTINA HIS WIFE; WHO DIED AT
CARLTON HOUSE, OCTOBER 1887. AGED 13 MONTHS.

IN LOVING MEMORY OF
EVELYN ISABELLA
2

ND

DAUGHTER OF THE LATE
HON

BLE

SYDNEY WILLIAM SKEFFINGTON
AND OF CLEMENTINA HIS WIFE, WHO DIED AT
CARLTON HOUSE JULY 1887.
AGED 13 YEARS.