Clayworth St Peter
Organ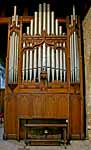 The organ is located in the chancel north aisle and was donated to the church by Sir Joseph and Lady Laycock of Wiseton Hall in memory of their eldest son Christian Laycock. A brass plaque states:
To the Glory of God & in thankfulness for
the dear & happy memories of our eldest
child, Christian John, who died on
Xmas Day 1911 at the age of 8 years,
this Organ is given by his loving Father &
Mother, Joseph Frederick & Katherine Mary Laycock.

"I thank my God upon every remembrance of you."
The organ was completely rebuilt and restored during 1996; a plaque nearby records:
This organ was restored in 1996,
in memory of the Swaby family,
by the generosity of
Mr Frank Marriott,
(1907-1996)
Churchwarden of St Peter's, Clayworth,
for
50 Years
The previous organ was made by Bevington & Sons in 1867. It was given by the Laycocks to Gringley-on-the-Hill St. Peter and St. Paul in 1912.