Colston Bassett St John the Divine
Bells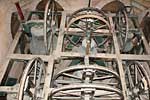 The bell ringers gain access to the ringing floor, within the central tower, by climbing the wooden stair from the vestry onto a metal stair and into the room. Further access to the bells is gained by climbing a substantial wooden ladder in the corner of the ringing room to a trap door into the bell chamber. In the ringing room there is an ancient 'one man' bell ringing frame where each bell rope was secured and one ringer could operate each bell by pulling on the ropes with a short sharp pull. The ropes were tensioned by a ratchet and small winch.
The bells from the derelict church of St. Mary's were rehung at St. John's the Divine. The Tenor bell was recast and in 1902. Mr. R. M. Knowles presented two new bells. Lady Margaret Knowles presented a bell bringing the total to eight.
The following information is kindly given by George A. Dawson:
Colston Bassett, Notts, S John Div, 8, 22-1-4 (1132kg) in Eb. SK699332>
The Bells from the derelict church of St. Mary's were rehung in St. John's the Divine.
From Church Bells of Nottinghamshire, Part I by George A Dawson.
Inscription
Size
Weight
1

EDWARD vii [ ]

Waist: IN COMMEMORATION OF HIS ACCESSION

A.D.1901
Reverse waist: (T)

28.5"
5.0.27
2

VICTORIA

Waist: In memory of her reign

A.D.1837 to A.D.1901

Reverse waist: (T)

29.5"
5.2.13
3

PRESENTED IN 1902 [ ]

Waist: BY LADY MARGARET KNOWLES

IN MEMORY OF HER HUSBAND

ALFRED MILLINGTON KNOWLES

KILLED IN ACTION

IN SOUTH AFRICA

AUG. 9. 1900

Reverse waist: (T)

31.5"
6.0.20
4

IN TYMPANO I CHORO LAVDATE DOMINI 1606 [40]

Waist: EDWARDVS GOLDING WILLIELMVS HAIRWELL

33.75"
6.2.12
5

WILLIAM PARKER: JOHN CRABTREE C:W 1755 THO. HEDDERLY FOVNDER

37"
7.3.12

6

Missus De CelisHabeoNomenGabrielis[ 6]

39"
c9.5 cwt
7

myroaringesounde doth warning give that men cannot heare always lyve

1608 [40]

46.275"
c15 cwt [10]
8

HecCampana Sacra Fiat TrinitateBeate [11]

Waist: GENT

WILLIAM HAREWELL

Lower waist: RECAST BY

JOHN TAYLOR AND CO MDCCCXCII

49.625"
22.1.4 D
Hung in a low-sided wooden frame for 8 bells dating from 1892 when the new church was built. The cost, and the cost of recasting the tenor was borne by R.M.Knowles (91). All bells have lost their canons, and hang from cast iron headstocks by Taylors, the 3 trebles in 1902 and the back 5 bells in 1985. All were put on ball-bearings at that time.
The 4th and 7th bells were cast by Henry II Oldfield; the 5th by Thomas I Hedderly whilst the 6th is in all probability the work of Richard II Seliok, bearing an inscription in which each word starts with a capital letter, type C. The old tenor bears the Mellours shield and rose and the name of William Harewell on this bell as well as the 1606 4th indicates a late date, so it was probably cast by Humphrey Quernbie or Robert, his son.
The opening of the bells was reported on in great length in the Grantham newspapers (92).
1552: iiij bells....a sacryng bells
1740: 3 bells (clearly an error for 5 bells)
Note: All badge numbers in [ ] are from the above-mentioned Church Bells of Nottinghamshire.