East Markham St John the Baptist
Features and Fittings
Chancel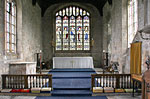 The sanctuary
The large altar was made of Cosham stone by Rudd & Sons of Grantham and was installed in 1897.
The altar rails date from the 17th century and have turned balusters; the altar is surrounded by four riddel posts with painted surface decoration and gilded angels, that appears to be the work of Sir Ninian Comper.
Comper also designed the altar frontal which dates from the 1890s.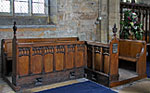 South choir stalls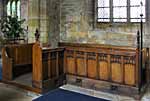 North choir stalls
The frontals of the choir stalls (installed c.1930) are dedicated to Eric Stafford Hempsall who died in July 1930 when his motorcycle collided with a lorry at Kirton. The inscription on a small plaque on the south stall reads:
THESE CHOIR FRONTALS
WERE PLACED HERE
BY
MR. & MRS C.J. HEMPSALL
TO THE
MEMORY OF THEIR SON
STAFFORD HEMPSALL
BORN 28TH JAN. 1913
ACCIDENTALLY KILLED
21ST JULY 1930
Nave
| | | | | | |
| --- | --- | --- | --- | --- | --- |
| Font | Detail of font base | Pulpit | Alms box | Brass lectern | Tower screen |
Font
There is an ashlar font with flying buttresses rising from a base decorated with fleuron, probably an inverted 14th century font, supporting the bowl. The bowl is dated 1686 and has a conical, decorated canopy of timber, octagonal in form, with carved finials and foliate ornament also dating from the 17th century.
Pulpit
The panelled and decorated pulpit dates from the 17th century.
Alms box
A 17th century alms box with iron fittings stands by the south door. The three iron hasps indicate that the vicar and both churchwardens had to be present to open it. It bore the inscription 'Remember the Poor' in the early 20th century but this is no longer visible.
Lectern
The brass lectern dates from the late Victorian period.
Tower screen
The modern wooden screen across the tower room entrance was erected in memory of Lilian Agatha Briggs, wife of the Rev A. E. Briggs, who died 15 October 1936.
North Aisle

There is a pre-Reformation altar slab in the Trinity Chapel that was once used as a paving stone at the entrance to the chancel.
Two worn crosses are visible on the surface of the slab.
South Aisle
Parclose screen in
bay of south aisle
The east bay of the south aisle contains the restored and reduced 15th century chancel screen with panel tracery surmounted by a large 19th century crucifix. The screen was removed from the chancel arch to its present position in 1897 to make way for an impressive screen and organ loft designed by Comper. However, a disagreement between the 7th Duke of Newcastle and the Rev Albert Briggs and his churchwardens resulted in the proposed work being abandoned.
Medieval Cross Slabs
There are three fragments of medieval cross slab in the chancel and one outside. See the Archaeology section for further details.