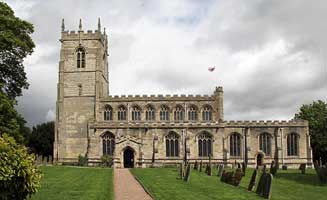 East Markham
St John the Baptist
Newark Archdeaconry
Bassetlaw and Bawtry Deanery
Introduction
A church was here in 1086 at the Domesday survey but the present building is largely a magnificent example of 15th century Perpendicular architecture.
Built of stone, the church consists of a nave, a long chancel, aisles, porch and a western, embattled 80ft tower with 8 pinnacles and gargoyles.
The 14th century chancel arch is the earliest visible part of the present building. The tower arch is extremely high. The nave arcades have tall octagonal piers with battlemented capitals, and there are twice as many clerestory windows as arches. All these windows and all those of the aisles are of the same design.
The five-light Perpendicular east window has glass designed by Ninian Comper and was installed in 1896. The south aisle east window depicts two early 15th century female saints. Another window is in memory of Mrs Penrose, née Cartwright, author of 'Mrs Markham's History of England'.
In the south aisle is a part medieval screen once the chancel screen. There is a Pre-Reformation altar slab in the north aisle and a stone monument to a lady as if she was in a coffin. The altar rails, pulpit and font cover are all of the 17th century. The font bowl is dated 1686.
There is an alabaster tomb-chest but no effigy to Sir John Markham (d1409), a judge responsible for deposing Richard II. There is a fine brass to his former wife, Dame Millicent Meryng (d1419).
Particular thanks to Rowan Gillam-Hull, Andy Nicholson, Michelle Pepper and George Hardy
for research on this entry and to Geoff Buxton and Chris Brooke for the photographs.