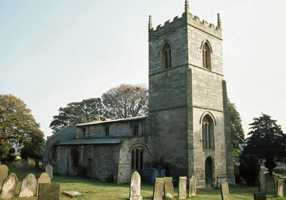 Egmanton
Our Lady of Egmanton
Newark Archdeaconry
Newark and Southwell Deanery
Introduction
Egmanton was the site of a medieval shrine of Our Lady of Egmanton, and pilgrimages still end here. Pilgrim's marks may be found on the inside walls of the church.
The stone building has a chancel, clerestoried nave, a north aisle of four bays, a south transept and an embattled west tower with pinnacles and three bells dating from 1893. The south doorway and plain Norman font are from the original church. The north arcade is late 12th century with circular piers, the plain south door probably even earlier. There is a double arched piscina. The straight-headed windows in the transept are typical Nottinghamshire building in the late 14th century.The tower is also typical of Nottinghamshire, though in this case from the 15th century.
There are glass fragments of a 14th century figure of St George in one of the transept window. There is an alabaster monument to Nicholas Powtrell (d1579), justice of assize, and his two wives. There is a Jacobean altar table dated 1685.
In 1896-8 the Duke of Newcastle employed Ninian Comper to restore the church. He converted it into a casket of colourful woodwork, putting the building clearly in the "Anglo-catholic" tradition. The screen, with its rood and rood canopy, is a gem of Gothic Revival, displaying fine panels of saints in red and gold; it has recently been cleaned and conserved.
Comper was strongly influenced by South German Gothic, hence the organ case is modelled on that in Freiburg Cathedral, and the pulpit (looking Voyseyish) on the medieval pulpit in Ghent. Also by Comper are the stained glass in the east window, the altar tabernacle, a hanging pyx and the image of the Virgin in the chancel. Comper's colourful work here is eye-catching.
Particular thanks to Tim Southall for research on this entry and to Geoff Buxton for the photographs.