Egmanton
Our Lady of Egmanton
Monuments and Memorials
Chancel
In the Sanctuary, on the south side of the altar, there is a slate floor slab in memory of the Rev Benjamin Clay (died 1748) and his wife, Elizabeth (died 1759):

Here lieth intered the Body of the
Rev Mr Benjamin Clay many years
Vicar of this Parish who departed this
Life the 28th Day of Dec An Dom 1748
Aged 62 years
Also Elizabeth his Wife Daughter of
Digby Dakeyne Esq she died Jan 13 1759
Aged 60 Years
| | |
| --- | --- |
| Floor slab | Powtrell's arms |
Also in the Sanctuary, on the north side of the altar, is a worn and defaced alabaster floor slab in memory of Nicholas Powtrell, who died in 1579, and his two wives.
Powtrell held several public offices and was Member of Parliament for Nottingham in the mid-16th century.
North aisle
On the north wall of the north aisle is a slate and alabaster Renaissance Revival style wall monument to William Cardinall (1598).

HERE LYETH BURIED THE BODY OF W

M

.
CARDINALL SOMETYMES OF MUCHE
BROMELEY IN ESSEX ESQ. AND ONE OF
HER MA

TIES

HONORABLE COUNSELL ESTA
BLISHED IN THE NORTHE PARTES WHO
FIRST TOOKE TO WIFE MARY DAGHTER
TO HENRIE WENTWOORTH OF MOUNTNES
INN IN THE COUNTY OF ESSEX ESQ
BY WHOM HEE HAD ISSUE ONE SOLE
DAUGHTER & HEIRE NAMED ANNE MAR
RIED TO S

R

CLEMENT HEIGHAM SONNE
AND HEIRE APARANT TO S

R

JOHN HEIGHAM
OF BAROOW IN SUFFOLKE KNIGHT. &
AFTER WAS MARRIED TO JULIAN MA
SONNE DAUGHTER OF M

R

RICHARDE
[...]RINGER OF DARBY

GT

AND THE LATE
[...] OF M

R

W

M

MASON OF EGMANTON

GT


IN THE COUNTYE OF NOTTINGHAM

GT


WHO DIED BEEINGE OF THE AGE OF 62
ELIZ: RNE. A

o

DNI. 1598.
A floor stone to the memory of Fred Robinson who died in World War I lies in front of the altar in the north aisle: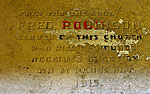 PRAY FOR THE SOUL
OF FRED ROBINSON
SERVER OF THIS CHURCH
WHO DIED OF WOUNDS
RECEIVED IN ACTION
ON ST PAUL'S DAY
1915
South Transept

There is a 14th century cove and roll moulded semi-circular tomb recess on the south wall containing a crude 20th century effigy of Baron Robert d'Ayvill. The damaged inscription reads:
Good Christian Folk Who Pass This Way For Baron Robert dAyvill
Pray At Egmanton He Made His Home When Henry Beauclerk Sat The Throne
[ ... ... ... ... ... ... ]
Tower
On the wall of the tower is a marble tablet to Samuel and Mary Appleby:

SACRED
TO THE MEMORY
SAMUEL APPLEBY,
WHO DIED AUGUST 3RD 1822.
AGED 43 YEARS.
ALSO
MARY HIS BELOVED WIFE,
WHO DIED JUNE 2ND 1845,
AGED 65 YEARS.
A brass plaque to the memory of Ruth Harvey: